Reviews


2017-11-06

MORPHEUS II Award: The Italian Reviewer, www.bitsandchips.it, granted MORPHEUS II the OFFICIAL RECOMMENDING and judged MORPHEUS II as "EXTREME AIR COOLER, COMPATIBLE WITH EACH WATER COOLER".

MORPHEUS II PRO'S:
Extreme Performance
Even Supported FURY X and same lever temps like the AIO's used for it
Extreme Workmanship
SUPPORTS ALL CURRENT GPU's
2 Colors available
Very Silent with the correct fans



2017-11-02

Coeus Evo TC Award: The EU Reviewer, www.hardwarecheck.eu, granted Coeus Evo TC the GOLD RECOMMENDING AWARD and judged Coeus Evo TC as "ONE OF THE BEST FULL TEMPERED GLASS CHASSIS on the market".

PRO'S Coeus Evo TC:
Real high end Chassis
EXTREME FEATURES
E-ATX VERSION
COMPLETE IN TEMPERED GLASS
SUPPORTS AIO'S AND DIY WATER COOLING OUT OF THE BOX
360mm RADIATOR WITH 60mm DEPTH IN THE FRONT AND 280mm RADIATOR with 60mm DEPTH ON THE TOP
PSU SHROUD
TYPE C USB
4 IRIS FANS PRE INSTALLED
GREAT DESIGN AND OUTLOOK
VERY GOOD PRICE



2017-11-01

Coeus Elite TC Award: The EU Reviewer, www.hardwarecheck.eu, granted Coeus Elite TC the GOLD RECOMMENDING AWARD and judged Coeus Elite TC as "INCREDIBLY GOOD AND SEXY".

PRO'S Coeus Elite TC:
VERY GOOD WORKMANSHIP
EXTREME SUPPORT FOR WATER COOLING AND AIO'S
FIRST TYPE-C CHASIS ON THE MARKET
GOOD PRICE
MICRO ATX / MINI ITX
EASY INSTALLATION
AWESOME OUTLOOK APPEARANCE AND DESIGN
3 IRIS FANS PRE INSTALLED



2017-10-26

ASTERION PLUS Award: The US Reviewer, www.benchmarkreviews.com, granted ASTERION PLUS the OFFICIAL RECOMMENDED AWARD and judged ASTERION PLUS as "SPACE WELL AND EXTREMELY PROCESSED".

PRO'S ASTERION PLUS:
LOTS OF INTERIOR ROOM
SUPPORTS E-ATX BOARDS
ACRYLIC SIDE WINDOW OPENABLE PANEL / DOOR
SUPPORTS LARGE 280 and 360MM RADIATORS




2017-10-23

LETO W/R/B Award: The Spanish Reviewer, www.profisonalreview.com, granted LETO the GOLD RECOMMENDING AND OFFICIAL RECOMMENDING AWARDS and judged LETO as "EXTREMELY GOOD AND VERY NICE".

PRO'S LETO W/R/B:
Very good design
Very good workmanship
Compatibility with Low Profile and High Profile RAM
Anti Vibration Slicks for the Fan
Very good end user price


2017-10-23

PAEAN Award: The French Reviewer, www.cowcotland.com, granted PAEAN the OFFICIAL 5 STAR Gold RECOMMENDING AWARD and judged PAEAN as "PAEAN BENCH TABLE convinces".

PRO'S PAEAN:
Great and very well designed ALU MIDDLE Frame
VERY GOOD WORKMANSHIP
EXTREME POSSIBILITIES FOR THE INSTALLATION OF SYSTEMS
VERY NICE AND ATTRACTIVE SSD AND HDD SUPPORT
EXTREME SUPPORT FOR DIY WATER COOLING


News




2017-05-24

On behalf of RAIJINTEK, we are more than happy to invite you officially to COMPUTEX 2017 during 5/30 (Tue.) to 6/3 (Sat.) in Taipei.



In this year, RAIJINTEK will show you brand new technology developments, design and innovation. You will be very overwhelmed with what we have prepared for you, and the technology will lead and influence your computing future and life.



Stay tuned and we'll be hosting you during your visit at our Booth I0132 in NangGang Exhibition center Come and be a part of the new leading technologies in 2017.


2015-12-21


"PRODUCT OF THE YEAR AWARD in 2015" by Evgeny from i2HARD.ru
Liquid cooling systems - RAIJINTEK TRITON 280 (REVIEW)

RAIJINTEK obtained the desired results on product researching efforts, RAIJINTEK ТRITON 280 is a powerful liquid cooling system and superior to the market. Enough to say is its high efficiency and excellent visual attraction, in addition, ТRITON 280 can be modified and expanded. There are more features on the operating of sufficiently low noise level and easy to install, everything is designed at just the right level.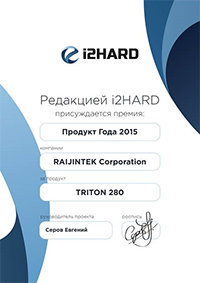 2015-01-30
Announcement – SUPPLIER OF YEAR 2014: RAIJINTEK was boosted from nowhere to 3rd rank of the SUPPLIER's OF The YEAR 2014 for All-in-One water cooling solution by the famous PC GAMESHARDWARE forum. We are happy that our work is being recognized well all over the world and keep on working smart to reach 1st place!




2014-10-29

RAIJINTEK, no ever ending to develop best and performing products, brings you a awesome Cube Micro-ATX chassis, AENEAS. AENEAS is developed for superb airflow (intake and exhaust) combined with an eye-catching LED bar. Clean and elegant design, AENEAS also provides a sturdy chassis body (0.8mm SGCC) and surprising functions and features.



Gorgeous possible fan installation for the best cooling performing ever, AENEAS supports up to maximum eight fans including a 200mm fan optional at the front, and pre-installs 2*140mm & 2*120mm fans at the rear and front. Additionally, AENEAS supports 240mm radiator at the front or on the top also. Superior features include such as a removable M/B tray for the easy installation, a max CPU cooler height up to 180mm, on/off button for the LED lights, a max VGA length up to 310mm and regular ATX / EPS PSU compatibility.



AENEAS, simultaneously including elegant stylish and superior functions, is an awesome enthusiast chassis at market.


2014-09-26

RAIJINTEK is proud to present you a new All-In-One Liquid CPU cooler, TRITON, RAIJINTEK's first Liquid Cooling System in the well known All-In-One design, designed in Germany and made in Taiwan.



With several years of experience in Liquid cooling products and the cooperation with German Engineers, RAIJINTEK's RD team developed the concepts of most performing DIY liquid cooling components and spent years to design one of the best performing and expandable All-In-One Liquid CPU cooler for enthusiasts.



TRITON, already breaking the boundary line between DIY & All-In-One, is brought to you for the joy of friendly design and the surprisingly efficient performance.





2014-06-25

At the beginning there was nothing. The cosmos was therefore built from a singularity, as already indicated and expanded since then. So it does RAIJINTEK with its new Chassis Series – THE GENESSIS LINEUP.



RAIJINTEK is proud to present you the new Arcadia, our new most wanted elegant budget Midi-tower case. RJK's ARCADIA, elegant design in combination with features – such as tool free design, extreme expansion, complete black coating, an unbelievable price and a rigid chassis quality.



Come and join RJK's world.